flippin board co roadrunner downhill longboard skateboard complete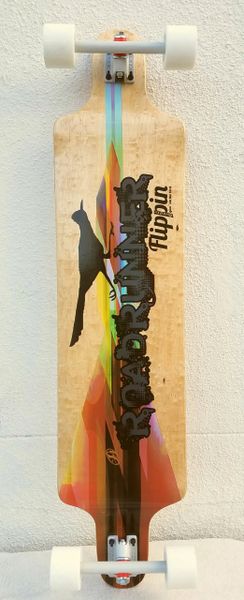 flippin board co roadrunner downhill longboard skateboard complete
Roadrunner Downhill Drop Down Complete Longboard Skateboard.
This board will get you movin at incredible speeds with great stability! The awesome graphics by Gillian Hatcher will attract attention wherever you go, not to mention the incredible Flippin Board Co name that is fast becoming the hottest in longboard innovation!
If you are ready to cruise with some pace, then this is the flippin board for you! Check out these awesome specs!
- Length: 42 Width: 9 1/2 with slight concave
- Awesome White Gunmetal 180mm 9.5" trucks
- Clear Spray On Grip To Show Off The Awesome Wood Grain
- Punked Speed Cruiser Wheels
- Reds Bearings
- 8 Ply Deck For Incredible Stability
-Has Approximately A 1.3 Inch Drop

Wheel colors subject to change without notice.